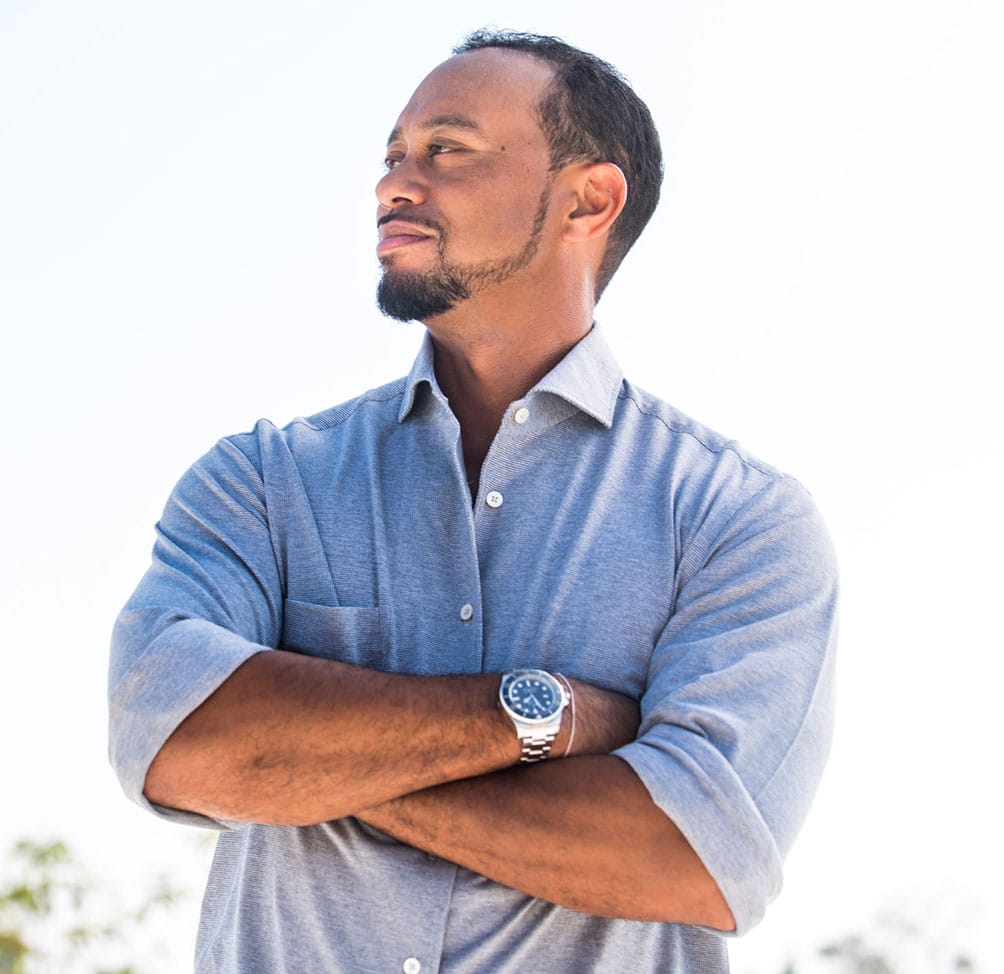 As I reflected on the past few years, I realized that this was the time to push myself and those I trust to give even more, in new and different ways.
Tiger's vision has always been focused beyond — beyond expectations, beyond comparisons, and beyond limits.
While his childhood peers had dreams of being astronauts or superheroes, Tiger was thinking bigger. As a nine year-old, he made a bold commitment to his father, Earl: "I'm going to be professionally excellent."
This relentless determination has driven the transformation of the scrawny kid from Southern California into a legend. But its impact extends far beyond the 18th green; Tiger's insistence on excellence has elevated his diverse endeavors off the course as well.
Because for Tiger, being a world-class athlete and a visionary entrepreneur requires the same fundamental building blocks: a focused mindset, a precise method, and an endless pursuit of mastery.
This is the foundation of professional excellence on which TGR, Tiger Woods Ventures was built.
Grounded in his unique experiences and approach, and looking always toward the future, Tiger's vision for TGR came into sharp focus. With ambitious goals and a precise plan in place, he went to work crafting his next chapter — a chapter marked not only by championships on the course, but by enduring impact off of it as well.
TGR unifies the philanthropic and business ventures Tiger has founded in a shared mission: to create opportunities to strive for excellence.
Recognizing a generation of underserved students that was challenged by limited access to educational resources, he founded TGR Foundation in 1996, focusing on Science, Technology, Engineering, and Math before STEM was broadly embraced by the global learning community.
Envisioning future champions who were deserving of memorable, playable courses to help them test their games regardless of their skill level, he created TGR Design in 2006.

And understanding that even champions and everyday enthusiasts need a chance to recharge and enjoy great food, fun, and sport, he created TGR Live, the events production company responsible for organizing tournaments and events benefitting the Foundation, and The Woods, the restaurant group.
No matter how good you get, you can always get better. And that's the exciting part.
As Founder and CEO, Tiger sets the vision for TGR and enlists top-tier teams and partners to bring it to life. True to his belief that you get back only what you put in, his personal involvement is felt at all levels of the company: from exacting direction on the brand's identity, ambitious goal-setting for TGR Foundation, course innovation with TGR Design, creative ideation for TGR Live events, and experience design at The Woods.

And this is just the beginning. TGR is focused on a future of growth globally, translating a champion's way of excellence into the creation of new and innovative ways for more people to make their best ever better.